Contact Us
Please feel free to contact us if you have any questions, comments, or messages.
Input fields with * are required.
Our company is a resilience certified company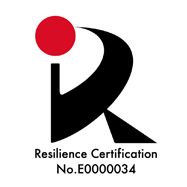 "Resilience certification" was confirmed to comply with "requirements of certification organization" prescribed in "Guidelines for Certification of Territorial Tolerance Contributing Organizations" from the Cabinet Secretariat National Land Tolerability Office "Resilience Japan Promotion Consultation Meeting" is conducted as "certification of national tenement contributing organization" based on the above guidelines.