Product Introduction
- Philosophy -
Contribute to the international development and earnings of excellent SMEs and venture companies in Japan through the implementation of practical application of environmentally friendly energy-saving technologies (and related technologies) with promising potential and business potential.
We collaborate with idea, patents etc at Wataya Seisakusho (Ueda City), and we will consistently undertake the drawing process and the assembly of parts procurement / manufacturing equipment to support prompt and bold start-up of business.
Commercialize innovative technologies that can fulfill the corporate social mission. (Environment / Energy Conservation Countermeasure Field)
Bloom the truly required technology in the appropriate market. (Eg emerging and developing countries)
We will change the potential value of waste to valuable resources by technology and contribute to the "construction of recycling-oriented society".
- Business Contents -
Technology / Management consulting
Domestic and overseas environmental / energy saving business, advanced technology related work (technology development · application, sales etc.)
Investigation business such as corporate credit, financial statements, market, distribution, goods / services, technology capabilities, competitor benchmark, business model, medium to long term business strategy, influence of government policy, rumor and influence of the media
Brokerage / Advisory on Technical Trade
Evaluation of economic, legal and technical value of technology
Exploration and matching of trade parties
Technical capability survey, comparison of other companies, technical consulting, research of fundamental technology, practical application of exploration
- Characteristics of business -
Provide technology, capital strength, comprehensive service for sale in cooperation with Watanaya Seisakusho, and support for practical application of technology
Developing international technical trade and consulting in cooperation with the International Federation of Intellectual Property Utilization Promotion
Acquisition of large-scale projects through industry-university-government public collaboration and promotion of subsidy business
Support for sales agency, technical development / sales plan (consigned business)
- International Environmental Tech-Research Co.,Ltd -
Investigate the motivation, passion and know-how of small and medium-sized enterprises and venture companies to investigate market research and business performance and to develop a consistent "package" (technical specifications, design drawings, bill of materials, process control chart, various manuals, basic data, knowledge A new type of fabless enterprise offering financial rights etc.).
Website: http://kokusai-kankyo.moo.jp/
Product Example
- Yukaki -
under development
Dissolve, vaporize, fractionate plastic (PP, PE, PS) by high frequency and reduce it to heavy oil / gasoline etc.
- Subcriticality -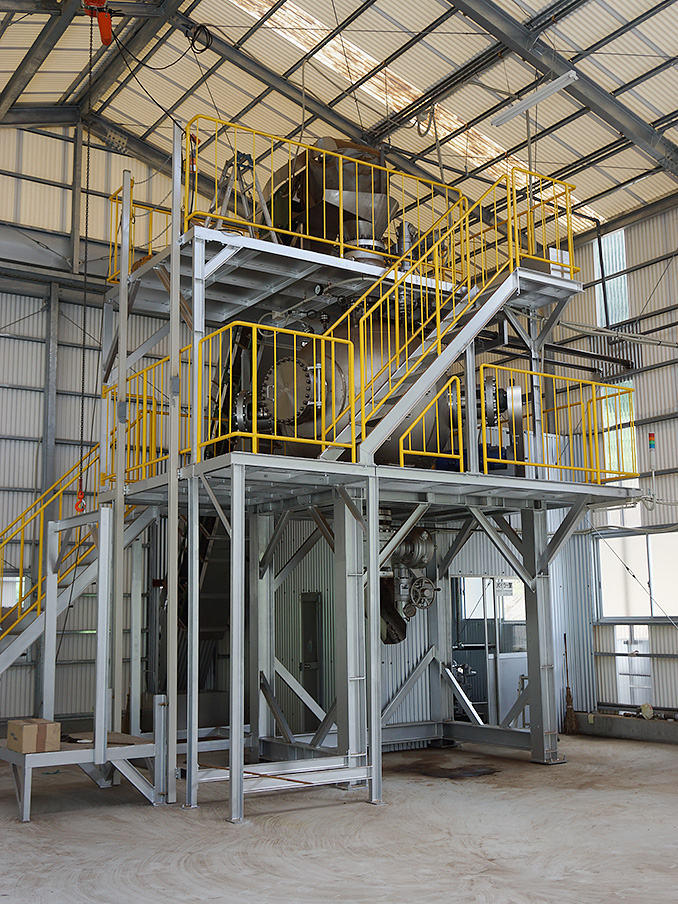 Perform garbage disposal and soil improvement. Perform sterilization and make soil suitable for vegetable cultivation.
100% Organic Fertilizer created by "Subcritical Water Treatment" contains same level of Nitrogen in the are. Therefore it does not attract insects.
100% Organic Fertilizer created by "Subcritical Water Treatment" elicits the potency of farm products, thus sufficient growth can be expected under the normal abundance of Nitrogen present in the air.
- Low‐Temperature Pyrolysis -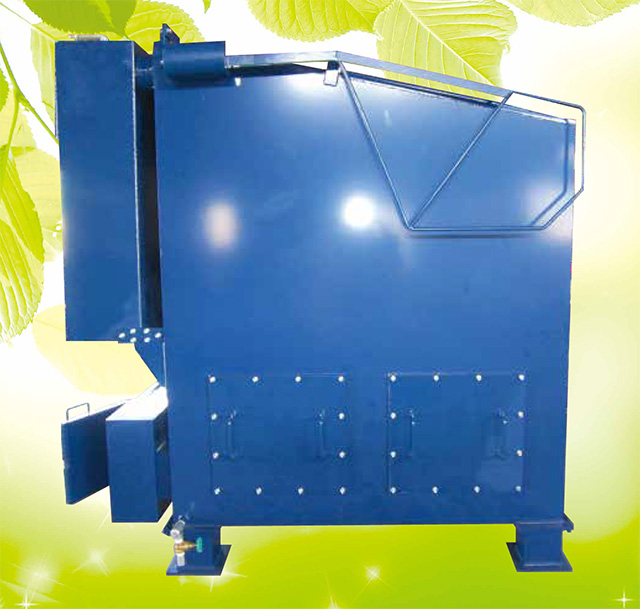 Perform garbage disposal and soil improvement. Perform sterilization and make soil suitable for vegetable cultivation.
Organic material processing equipment which does not use fuel at all except for the initial lighting method
Smooth organic matter at low temperature with air containing magnetic ions
Flame-retardant organic matter can be easily treated, almost no harmful substances are generated
Installation cost is 1/3 compared with thermal incinerator
Pyrolyzed at low temperature without fuel and produce ceramic ash as a by-product
- Agriculture -
Working on a method that allows vegetable cultivation for all the year in all environments.
- Ecology Development Equipment -
Solar panel recycling device (Nagano prefecture new business development subsidy) Ueda area promotion office, We are working with five regional associations.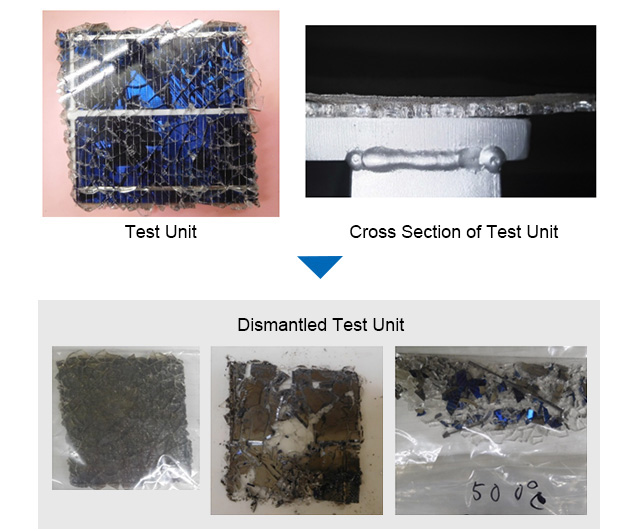 - Thread Cutting Die -
Our company's die is a part of the machine that creates the uneven part of a screw. Various roll dies are still widely available both locally and abroad. Dies are highly evaluated for their superior performance and quality, and by this technology they can be rolled without shaving materials to produce screws. It is the main strength of our Dies that it can produce screws that are much stronger than the screws produced by cutting. Our company has been the official roll dice manufacturer of Tsugami Corporation.


- Equipment Introduction -

- Overview -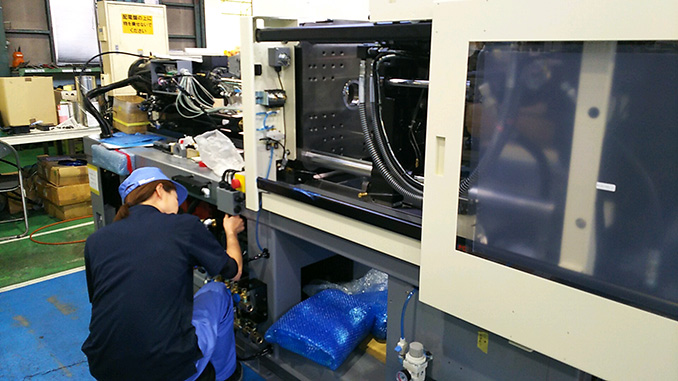 Procurement of parts for special machinery, assembly, wiring, integrated production up to operation adjustment.
Procurement of control panel components, manufacturing, wiring and integration
Our company is engaged in manufacturing and processing machine parts, including injection molding machines that produces plastic products. We also assemble various special machines, wiring and operation adjustment.
- Manufacturing and assembly of injection molding machine
Accumulated Achievements -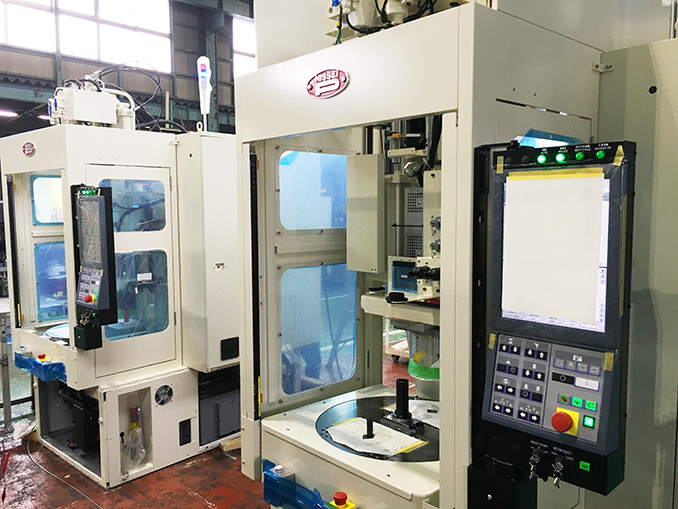 Our current main production items are injection molding machines. Up to now, as a designated cooperative factory of Nissei Plastic Industry Co., Ltd., we are accepting orders among the company's injection molding machines, from parts manufacturing up to assembly and operation adjustment, and we have accumulated results through integrated production.

◆ Achievements heretofore
• Electric NEX series
NEX5, NEX15, NEX30… and such
• Small precision molding machine NP series
NPX7, HMX7… and such
• Hydraulic type horizontal molding machine NS series (small machine)
PNX40, PNX60, FNX80… and such
• Vertical Forming Machine ST Series (Small Vertical Type Machine)
STX10, STX20, TH5… and such
Synergistic effects are expected from injection molding machines accelerating the plasticization of parts used in automobiles and other small electric products. Internationalization of corporations has progressed throughout the years. But despite this harsh progression, we are continuously striving and devoting comprehensive efforts and challenges high quality and advanced technology.
Definitely, we also manufacture orders for various special machines, as well as process parts aside from that of our company. With our know-how, we may be able to provide support. Please do not hesitate to consult with us for any requests.
- Design and development, up to production of new equipment -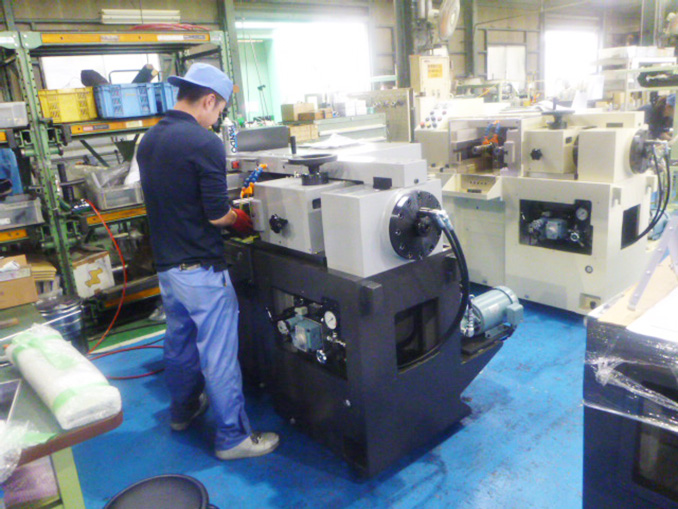 We will assist you from designing and developing, up to manufacturing of new equipment. OEM production in total.
"I am looking for a reliable OEM manufacturing plant"
"I would only like to source for assembly"
"I want to create a machine but I do not know how"
We respond flexibly to each and every request from a variety of customers.
- Flow of OEM designing up to manufacturing. -

※ The flow changes depending on the type of machine and request.
- Please feel free to contact us. -
In addition to injection molding machines, we have a performance history in various specialized machinery (Medical machines, waste plasticizer, various inspection equipment, etc.) Alongside our customers, we solve each and every problem one by one according to their requests. We may be able to help with the equipment that your company needs. Please feel free to contact us.
- Overview -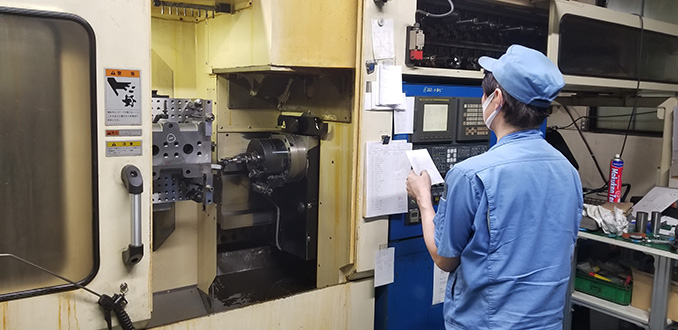 - Comparison between large parts manufacturing and precision manufacturing -

We have a manufacturing department that develops and process parts such as machine parts, injection molding machines that produces plastic products, assembly division that assembles special machines, wiring and operation adjustment.
- Machining – Please leave it to us for middle to large size and also small volume production. -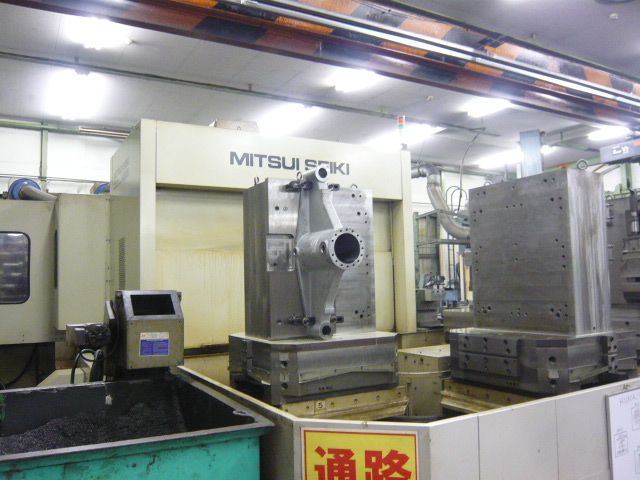 We specialize at manufacturing big machines
Our manufacturing department performs metal processing such as casting, etc. We have the capability to handle relatively large sizes of various types of products and also small volume production.

We handle wide range of manufacturing, from parts manufacturing, secondary manufacturing, mold manufacturing, from unit manufacturing up to assembly.

>> Click here for samples of manufactured products
- Corresponding Process Table -
Corresponding Process type
・ Large manufacturing
・ Five-surface manufacturing
・ NC lathe
・ Various milling cutters
・ Cylindrical grinding/surface grinding
・ Casting manufacturing
Manufacturing material

Cast iron / stainless / Iron / Aluminum / others
Major Products

Special machines / tool machine parts / various molds / Die set parts / Other precision parts
Production System

Variety of products / small parts manufacturing / large manufacturing / high precision parts manufacturing
■Facility Features
Large sized five-surface manufacturing machine, various milling cutters, horizontal type. We are consistently manufacturing parts from horizontal/vertical machining center to finishing with precision grinding. We have received high quality finish from parts manufactured for our own machinery and equipment, as well as from many orders from outsourcing.
Please see the equipment list for details
■Inspection Equipment
【Tokyo Seimitsu】 3D coordinate measuring machine RVA 1000 A
(Measurement range: X = 850 mm Y = 1,000 mm Z = 600 mm)
- Please leave it to our processing technology -
We are actively accepting orders from existing customers as well as from new customers. Consultations from the beginning is absolutely accepted. From prototypes, single item or small lot , please do not hesitate to consult with us.
- Product Sample -
- Product Sample 1-

-Product Sample 2-
<

Our company is a resilience certified company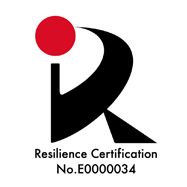 "Resilience certification" was confirmed to comply with "requirements of certification organization" prescribed in "Guidelines for Certification of Territorial Tolerance Contributing Organizations" from the Cabinet Secretariat National Land Tolerability Office "Resilience Japan Promotion Consultation Meeting" is conducted as "certification of national tenement contributing organization" based on the above guidelines.